I have been writing many technical articles, but have never written an article about myself. My Tirupati travel diary in 2010 will recall the moments I cherished at Balaji temple.
Now a chance has come my way, to blog about my journey to a epic place. The wonderful and pious place of South Indians, known as Tirumala and Tirupati.
Current, Tirupati Travel Cost in 2022 mentioned in this article.
Lord Venkateshwara, an epic god of the Hindus, is located on the hills of Tirumala. City called Tirupati, at the foothills. We have many temples in Tirupati and sight seeing locations in Tirumala.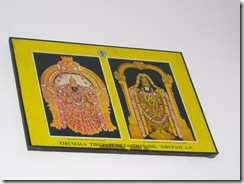 First of all my journey started on Feb 20th, Saturday, 2010.
We reserved all our train tickets to and fro from Visakhapatnam to Tirupati. The train ticket cost is around Rs 300/- per each person.
We were totally 5 members. We booked ARJITHA BRHAMOTSVAM SEVA for seeing Lord Venkateshwara idol in Tirumala. It cost around Rs 1000/– which allowed 5 members.
Tirupati Travel Diary – Day 1 – Feb 20th, Sat.
I started with my family (Mom,Dad,2 relatives) from Visakhapatnam. We boarded the Tirumala express at 1.50pm. The railway station gives an endearing look from the top.
We started watching the nature as we passed many stations like Samarlkot Junction, Rajmundry, Elore, Vijaywada etc. By the time we reached Vijaywada it was around 9pm. I had already gone to sleep by then. We played some cards in the middle to pass some time.
Current Tirupati Darshan online booking and its story.
Tirupati Darshan 2010 – Day 2, Feb 21st, Sun.
We reached the Tirupati railway station by 5.45am.
We came out of the railway station and then took an auto to reach the Srinivasan Pilgrims Amenity centre, which is close to the bus station.
The auto charged us Rs 50. The center is just a 1 km distance from the railway station. As we booked the room in advance we could easily get a room.
The room cost is Rs 200/- each day. All reservations made in advance at my native place, Visakhapatnam, TTD centre, MVP colony. 
Tirupati Local Visit
We finished our breakfast by 9am at a near by food stall just opposite the amenities centre.
Then we booked a Tata Indica for Rs 2200/– to see a few places. The places included Alivelu Mangapuram, Kalahasti, Srinivasa Mangapuram, Kanipakam and Golden temple.
First we went to Alivelu Mangapuram, but, had to return without seeing the deity as the darshan of the goddess was not still open to the public. From there we went to SriKalahasti, a Siva temple.
Sri Kalahasti Story of Tirupati
The history of the temple says that the Siva linga in the temple has been worshipped by spider, snake and an elephant. It is a very ancient temple.
Before we enter the temple, there is a Vinayaka temple (the elephant god) which is below the Ground level, almost inside the river bed.
It is believed in the Hindu circle, that first praying to Lord Vinayaka and then praying other gods is very sacred.
Then we went inside the temple and took a special darshan ticket of Rs 10/- for a faster darshan of the god. It is common in Hindu temples of putting a price tag for faster access to god, though even free access is there. We also drank butter milk there, which was very nice.
Just before coming out of the temple there is a Suryanarayana temple ( the sun god), which looks neglected and is missed by many pilgrims.
Other Places of Interest in Tirupati
From there we went to Srinivasa Mangapuram. It was almost lunch time by this time. So we had to stop by at a hotel to have lunch.
The heat was unbearable although it was only February.
When we reached Srinivasa Mangapuram, it was around 2pm.
The place is always peaceful and very little rush can be seen here.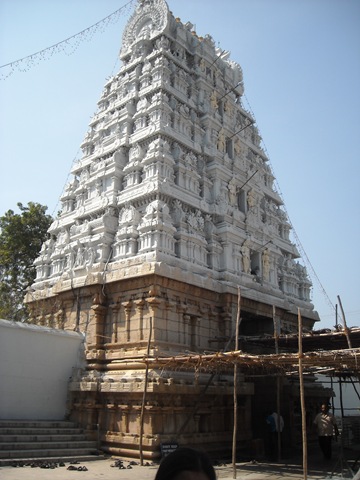 We took a few photos here and we finished the darshan of the god with very ease. Then we left the place for Kanipakam, which has become famous recently. Here Lord Vinayaka (elephant god) is worshipped and is said that the lord is found in a well, and also said that the lord grows each year.
Kanipakam Travel Visit – Tirupati Darshan
The history to Kanipakam can be found from this link. It was almost 4.30pm by the time we left Kanipakam. From there we left to Golden temple which was in Tamilnadu state.
We reached Golden temple by 6.30 pm. All the temples visited till now are in Andhra Pradesh, Chittor district. The golden temple is in Vellore city.
The history of the temple can be found from this link.
Golden Temple Visit – Tirupati Travel Guide
The temple is to be seen in the night as the gold glows in the night decoration. Goddess Lakshmi is worshipped here. The temple is surrounded by a Hindu mechanism known as SriChakram ( which is a star shaped construction).
It took us around 2hrs to see the goddess and travel all the srichakram.
We came back to Tirupati by 11.30 pm. The driver who drove us was very young and enthusiastic. Though he studied only 10th, he spoke of driving big cars and wanted to win race. Oops! Too enthusiastic perhaps!!
Tirupati Balaji Darshan – Day3, Feb 22nd, Mon.
Today we visited all the local temple in Tirupati. First we visited the Govindaswamy temple. Here the brother of Lord Venkateswara is worshipped. The temple is peaceful and does not pull much of rush. Also, the god can be seen very clearly in a sleeping position.
Alevelu Mangapuram Visit
Wife of Lord Venkateswara, Alevelu Mangamma worshipped here. Here also we took a special ticket for quick darshan and finished the darshan in an hour.
Afterwards, free meal was provided. Considered very sacred by the pilgrims. The free lunch was good.
Then we reached our guest house again. By this time it was around 2pm. We took a nap and by 5.00pm we were awake again.
I still had some cramps so i could not see any more places. The rest of the tour gang went to Kapil Teertha, a waterfall place.
Tirupati Travel Diary – Day4, Feb 23rd, Tue.
In the morning we got ready early and started our journey to the real god, Lord Venkateswara, up the 7 hills. The bus fare was Rs 54/- to and fro from Tirupati to Tirumala.
There is also a facility to climb the hills by foot. But we preferred the bus. After we reached Tirumala, the top of the 7 hills, we had to stand in queue for allocation of lodging room.
We already booked the reservation but still we had to stand in queue. Given at ARP counter which is at the very starting of Tirumala.
Tirumala Seva Darshan
The room given at 9am. My father and aunty gave away their hair completely, while my mommy , me and other aunty just gave a few strings of hair.
At around 1pm we went to the function hall, for the ARJITHA BRHAMOTSVAM SEVA. Utsava deity brought into the hall at 2.15pm.
My parents given some gifts too. Idol placed on different vahanams or vehicles like Anjaneya and Garuda vahanam.
Balaji Darshan
After that we went into the queue for our main purpose i.e visiting Lord Venkateswara.
By 3.15 pm we were able to see Lord Venkateswara idol, which is very enchangting to see.
The Lord is full of garlands, diamonds and the inside temple itself is full of gold. After the darshan, we went to sleep and my other members of our family went for shipping.
Tirupati Travel Diary – Day 5th, Feb 24th, Wed.
We again got ready by 9am, to see Lord Venkateswara for one more time. This time it was Rs 50/- darshan. It took us almost 3hrs to complete the queue and visit the lord. In the afternoon, we went to some sight seeing places like Akasam Ganga, Venu gopalswamy temple and Papa Vinasanam.
End of Tirupati Travel Trip
By 9pm we reached the railway station at Tirupati and boarded the train back to Visakhapatnam.
One good thing about the railway station is it is very nice and also has a good Vivekananda stall.
Also India was on the verge of winning the cricket series with South Africa and also Sachin Tendulkar scored a double century, for the first time in one day cricket history.
Ha! That is my tour diary. Next time more pics and more stories.