As I have narrated my day 1 travel story of tirupathi and tirumala, the "sight" of Lord Venkateswara on the first day made our souls blissful with joy. The first day went on smooth with the "Vasanthotsavam Seva" and visiting "Sri Varahaswami Temple" before taking the vision of Balaji.
The second day started without much hurry and fuss. The main schedule of today's programme was attending the "Kalyanotsavam" of Lord Balaji. We earlier booked tickets for this seva at our native place, Visakhapatnam. The price of this seva is Rs 1000 or almost $20.
You can book this seva online by visiting this site and registering yourself. This seva is done for married couples. That's why only 2 people are allowed on this ticket. Kalyanotsavam starts at almost noon (around 12 pm). So we finished our bath, breakfast at our ease  and took some photos of ourselves.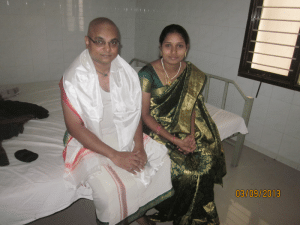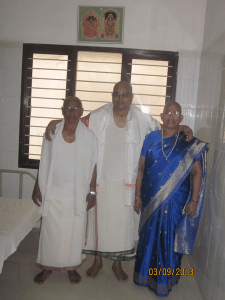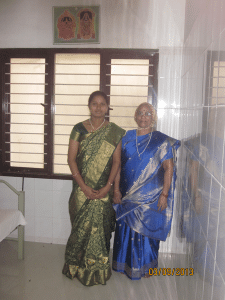 I had to wear a special kind of South Indian dhoti for this occasion and ladies were to come in silk or "pattu" sarees. Later I was even asked to remove my banian which covers my upper part of the body.
We reached the "Q" complex much earlier by 10.00 am in order to seat in front of the "Kalyanotsavam" idols. Just like yesterday we were taken through a separate route apart from the FREE darshan devotees, but later merged with them. When we came inside the temple or "Mandap", we were diverted to a separate place for Kalyanotsavam.
This place was narrow beside the main temple building and could accommodate 1000 devotees. The prasadam or "Bahumanam" for this seva consisted of the following.
Two [2] Big laddus
Two [2] vadas
Five [5] Small laddus
One [1] Art silk Upper
One [1] Blouse Piece
The seva process started with a priest chanting mantras or hymns. The devotees sitting in front of the dias were also asked to chant the "Govinda" mantra along-with the priest. We were asked to raise our elbows and clap as part of the ritual. This continued for 1 hour and some of them like me fell into sleep in the middle.
After this ceremony was complete, we were asked to join the queue again to "sight" or darshan Lord Venkateswara again. This was the second time of our vision of Lord Balaji during this tour. My wife and I got a good glimpse of the idol and our hearts were full. By 2.00 pm we were able to come out.
We visited a nearby hotel for lunch, around the temple surroundings. There were lot of small shops which catered tiffins and meals. But I preferred the hotel. I normally go to the Annapurna restaurant which serves both North-Indian and South-Indian dishes, but was closed for now due to unknown reasons.
Later I and my wife retired to the (Panchajanyam) dormitory rooms. My parents were little late to arrive. It was almost 4.00 pm when we decided to visit the nearby places of importance. We booked a taxi for Rs 500 to visit the following places.
Srivari Padalu
Silathoranam
Chakra Tirtham
Venugopala Swamy Temple & Haathi Baba Samadhi
Akasaganga
Papavinasanam
The time taken to visit the above 6 places was about 3 hours. The most interesting aspect of visiting these places is that the whole drive goes through the forest area which is rich in medicinal plants. So this drive gives a refreshing breath and also good for health.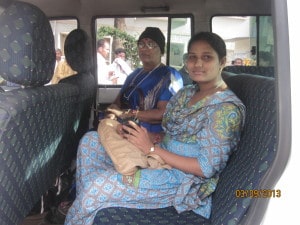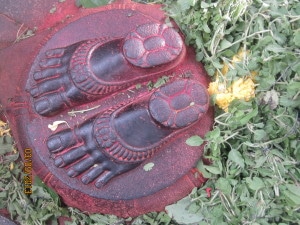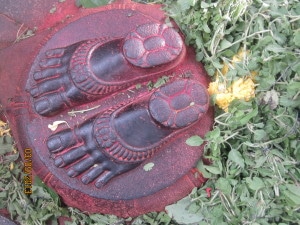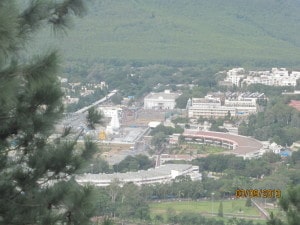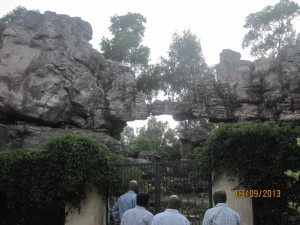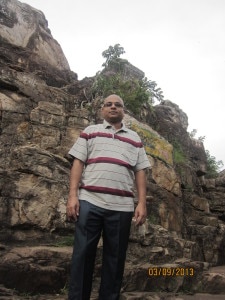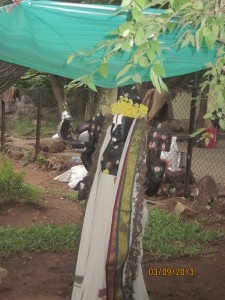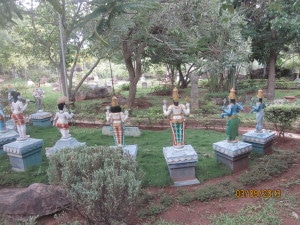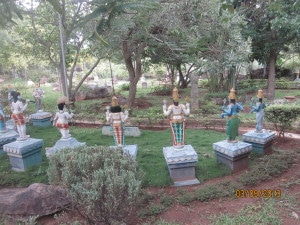 After coming back from the trip it was about 7.30 pm. My wife and mother went for shopping in and around the places of the temple. I and my father sat near the CRO office and chit-chatted for a little. I felt good to sit calm and idle in the midst of the pilgrims floating around. Unfortunately, the divine music which used to be heard from shops once we reach the Tirumala hills was not to be heard these days.
The second day of my visit to "Tirumala/Tirupathi" in 2013, thus ended on a peaceful note. We had to pack our luggage that day, as we planned to go down to Tirupathi on the next day.