It is one of the pious moments in life to visit Sri Venkateswara temple and do Tirupati darshan. Lord Balaji gives gracious blessings in money and happiness. The more you give, the better you get in return. One of the pleasant months to visit Tirumala hills is in the range of November to March.
In Summer the temperatures are high and water problems may arise. However in Winters, the temperatures are cool and comforting, well above 15C. The morning temperatures are around 20C to 25C, while the night temperature is between 15 C to 20C.
Tirupati darshan timings are throughout the day. According to Seva types and Darshan tickets, timings follow. For example, Rs 300 special entry darshan timing is different on different days. It can be 10AM, 1PM, 3PM, 5PM, 8PM, 10PM etc.
Read more

: Tirupati Darshan Experience in 2022 – Complete Travel Guide
But you can enter the queue about 3 to 4 hours before. So if you have a 3PM schedule, you can visit at 1PM slot also. Accommodation given for 24 hours only. If there are less number of pilgrims, then extension is possible.
In this blog post, I'm going to narrate my Tirupati darshan trip in Nov 2022.
How to Book TTD Online?
Using the official portal, we booked darshan tickets for Nov 16th, in Sept 2022. It was 45 days before as per the schedule given on the online portal. The accommodation booking release was a few days after. We planned to stay 2 days in Tirumala hills and 1 day in Tirupati city.
The Tirupati darshan online booking and cost can be seen in this article.
We made the corresponding booking for rail tickets. Most trains booked at reserving time and on waiting list. It is because of Kartikamasam season. So we had to book a 3AC coach to and fro.
Tirupati Temple Timings
Tirupati Darshan Travel Guide 2022 – Day 1
I along with my family and parents started for Tirupati darshan of Lord Balaji from Visakhapatnam. There were a total of 4 adults and 2 kids. We reached the railway station by Auto booked through Uber.
The driver said that Uber allows only 3 adults per drive, so he charged us extra Rs 50. We had to pay Rs 130 to reach the railway station.
I booked the Tirumala Express (Train no. 17488) to reach Tirupati railway station. Reservation coach was C4 and the total cost of tickets for 6 people was around Rs 6000 for the AC coach. You can save a few books with Sleeper coach.
The Tirupati visit of 2013 and its details can be seen in this post.
However, AC coach windows covered with glass. There was no natural feel of air as were all enclosed in the compartment. But the single big window offered some view.
The train travel was smooth with some chit-chat with fellow passengers. We had a journalist and government employees sitting around us. In the night, one of the passengers failed to get into the train. The family were afraid and pulled the chain. Train stopped and security guards came to our coach.
After some discussion, they left. Fine of Rs 5000 and above can be levied if you pull the chain for NO reason.
Tirupati Darshan Travel Guide 2022 – Day 2
You can make use of the "Where is my Train" app to know the latest status of the station and arrival. It works offline and online. It makes use of GPS and Cell Tower offline and gives the latest status also. Our train arrived 30 minutes late at Tirupati station.
We took bus tickets to Tirumala hills inside the station itself. There is a 25% discount for senior citizens and 50% discount for kids below 12 years old. The actual bus fare cost is Rs 90 per head and you will save Rs 20 if you reserve both to and fro. For us, the total cost to Tirumala hills was around Rs 460.
Tirupati Darshan Booking Online
The journey was very cool as we moved to the top of the hill. The hills were in fog. The cloudy, smoky weather made the hills look so beautiful from the top. It was also the birthday of my father. I wished him best wishes for the day.
We reached the CRO office. (control center). They scanned our loading receipt. We had to wait 10 to 15 minutes to receive the accommodation notice to our mobile number.
The mobile number linked to the receipt through the bar code. So it's important we don't forget our mobile of which we have given the number in the online reservation. Nandakam lodge given to us. It was non-AC room with 2 beds and 4 persons can stay.
But many pilgrimage families stay with more people.
Tirumala Tour Guide
Tonsure halls (giving hair to the god) were just below the lodge. By 10AM, we finished all our daily chores and breakfast. At 11AM, we reached the Varaha Swamy temple. One has to visit this temple before the main Balaji darshan.
We had our lunch at Tarigonda Vengamamba Annaprasadam hall just beside the temple. The hall was picturesque with a large painting. The food is free. Rice with sambar, rasam, curd and curry are the lunch and dinner.
TTD Rs 300 Darshan
Our Tirupati darshan ticket timing was 3PM. We went into the queue around 1PM. Mobile phones not allowed inside the temple. Scanning of darshan tickets done along with checking of original photo id (Aadhar or VoterId etc).
We had to wait for some time in the Vaikuntam Queue complex for about 1 hour in hall no. 30.
Significantly, same photo proof is to be shown as in online reservation. Otherwise, not allowed inside. It took us around 4 hours to visit Lord Balaji through the Special Entry Darshan (Rs 300) ticket. The idol was magnificent as ever.
TTD Shopping
We rested in our rooms till 7PM. We went shopping till 9PM. Then we had some light tiffins at the stalls near the CRO office. It cost us around INR 500 for 6 people.
Balaji Tirupati Darshan 2022 – Day 3
Secondly, we booked another accommodation ticket in my wife's name using Voter ID. We got ready by 9AM. Then we booked a jeep to visit the local temples and a site trip. The driver asked for Rs 2000 and we bargained for Rs 1500 to visit 6 places.
Chiefly, we visited SriVari Padalu where Lord Venkeswara put the first step on these hills. The stone feet were covered in plastic glass. To prevent weathering by touching of devotees. Afterwards, we reached SilaThoranam said to be 2500 million years old.
At the same place, Chakra Teertham can be visited. There is a nice waterfall to take pictures. My kids bought some sparrow whistles made out of clay. It is the place where the natural formation of Vishnu chakram has taken place.
Tirumala Local Visit
Then we visited Sri Venugopala Swamy temple which is in the other direction. At the same place, HathiRam Bhavaji samadhi is also located.
Finally we visited PapaVinasam which is also one of the must places to visit after coming to Balaji hills. There is a waterfall kind of arrangement through various channels.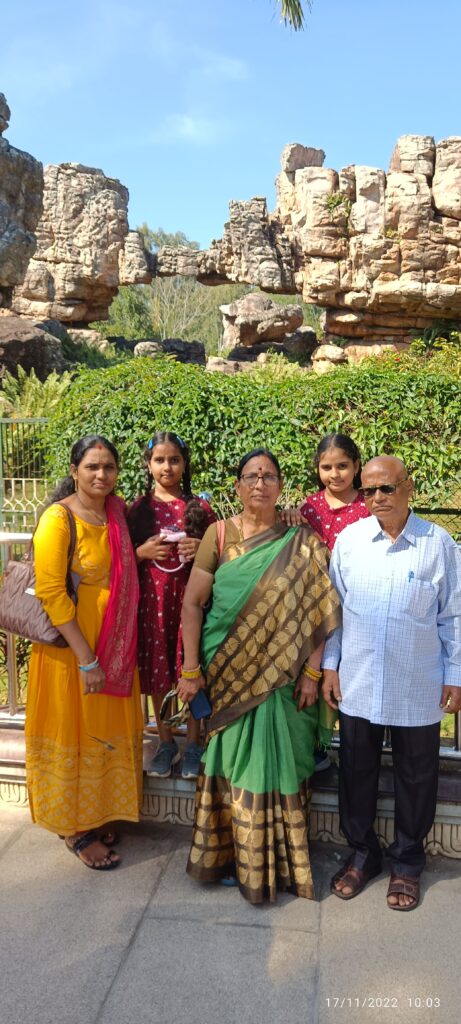 The bus fare to visit these 6 places is Rs 120 per head. You can utilize the same, but it will take some time. We had our lunch at the free Annaprasadam center again.
Second Balaji Darshan
Then we rested till 6PM. We had our evening snacks and our dinner. It cost around Rs 500.
We booked another Balaji Darshan at 10PM. The queue at 8.30PM. We came out at 12.30 AM. It took us 4 hours. This time, the deity was covered in flowers. But the Laddu Prasadam was over.
Each Special Entry Darshan ticket (Rs 300) is given 1 free laddu. If you want additional laddus you need to pay Rs 50. You can directly pay at the counter to receive as many laddus you want. Some people were taking around Rs 500 worth of laddus.
Tirupati Travel Diary – Day 4
On this day, we reached the bus complex near Ram Bagicha to go down the hills to Tirupati city. We took an AC electric bus. Beware of APSRTC cheaters who may fraud you into billing this bus. I went to the APSRTC stand to purchase the normal ticket, but they forced me to buy the AC ticket which costs additional Rs 20/head.
Also the doors are closed and not as comfortable as regular buses where we can feel the normal cool air through the windows.
We made the accommodation at Srinivasam lodge for Rs 450 for AC room. Then we booked a taxi for Rs 3500 to visit Kanipakam, Alivelu Mangapuram, Srinivasa Mangapuram, Kapila Teertham waterfalls and Govinda Raja Swamy temple.
Kanipakam temple was newly renovated and the Ganesha idol is clearly visible. The quick darshan ticket prices have risen to Rs 100 and Rs 150. Earlier there was a Rs 30 ticket. But it doesn't exist anymore.
Tirupati Local Visit
Kapila Teertham waterfall has a nice scenic view, but you are not allowed to bathe below it. Earlier it was possible. The pool below is full of muddy waters. We have a Shiva temple beside the pool.
We started at 8PM to return to Visakhapatnam. There are very few restaurants on the railway station. It is better if you pack your dinner outside. One restaurant was available on Platform No. 1 and priced average.
We took Train No. 22708 Double Decker Tirupati to Visakhapatnam AC Express. I was excited to board a double decker train, but all my enthusiasm drained when we went inside the coach. It was a sitting coach and not a sleeper one. Each bogie has 150 seats.
You couldn't sleep properly. My parents and kids struggled to keep their legs and arms in a comfortable position. I would never prefer this train again, if not for the reservation unavailability.
Common Questions about Tirupati Darshan
What is the cost of TTD darshan tickets?
Special entry darshan cost is Rs 300 and Sarva Darshan is Free. One free ticket with each laddu is given. VIP darshan requires you to donate Rs 10,500 per person to Sri Vani trust. 9 members of the family are allowed and you need to pay an additional Rs 500 per person in the queue. Kalyanam has a price of Rs 1000 per two persons.  Additional Seva also can be booked online.
Can we get a 300 RS ticket in Tirupati directly?
Yes, at Srinivasam lodge in Tirupati. Every morning they are given. Otherwise, you can book them online some days before. But atop the hill you cannot book a Rs 300 Tirupati darshan ticket directly.
How long does it take to get a free darshan in Tirumala 2023?
About 5 to 6 hours apart from the walk on the hill, on normal days. In seasonal and peak days, it may take 10 to 15 hours. Special entry darshan (Rs 300) takes around 3 to 5 hours including waiting. In November and December, when there are no special Utsavs, it takes 1 or 2 hours more than the Special Entry Darshan. 
What is proof required for Tirupati darshan?
Aadhar, VoterId, Ration Card, PAN, Passport etc are some of the valid photo id proof for Tirupati darshan. If you have booked online, you have to bring the same id proof provided during the booking. Scanning of darshan tickets and checking of proof will be done for all darshans inside the queue.
How many days before a TTD darshan ticket can be booked?
30 days to 45 days prior to the month of booking. Notifications are released on the main official website – https://tirupatibalaji.ap.gov.in/#/login. The number of days before a TTD darshan ticket can be booked online varies according to the website notification. So watch SVBC channels, newspapers and other media for latest information on when the ticket slots are available.
Can we book two darshan in Tirumala?
Officially, you can book only 1 darshan in 90 days. But there are tweaks using which you can book multiple or two darshan in Tirumala online. You can make use of multiple accounts and multiple id proofs to book 2 or more darshans in Tirumala.
Tirupati Trip Experience
In this 3-day journey, we could remember all the travel and trip to Balaji temple. As said by one of the guides, we never forget the Sri Venketeswara Swamy darshan. The tales and stories we told of our darshan will remain with us till the next journey.
My parents and family enjoyed the trip. It is especially peaceful to visit Tirupati in November when the weather is cool and Brahmotsavam is just over. I enjoyed the journey, darshan, food, travel and all the things during the Tirupati tour.
Until next time, enjoy my travel reading. Thanks.