The month of October-November is a feverish festival season in India. This year, the festival of lights (Diwali) was celebrated on 26th Oct. Very soon, 4 days from Diwali, is celebrated Nagula Chavithi, which is nothing but a festival to worship the Serpent Gods.
This festival normally falls in Kartika masam (a month – according to Telugu calendar), where people of Andhra Pradesh (state in India) organize picnics to celebrate this month. It so happened that my family and relatives planned the auspicious day of Nagula Chavithi to organize a picnic.
We started earlier at 6 am from Visakhapatnam (my native place) in 4 cars. First we reached my sister's new apartment which is under construction at around 9am. Then we set for Dharapalem or Panchadarla.
After we reaching the spot, my parents and aunts selected a suitable "putta" (holes where snakes live – sometimes it may not be a real snake hole) and started doing the puja. They spread turmeric and other powders around the hole and drop eggs and milk into the hole. After the puja is finished we take the sacred earth of the "putta" and put it on our ear tips and forehead.
We burn the remaining crackers left over from Diwali. The Dharapalem village is situated 30 km from Vizag steel plant and is renowned for the 5 jets of water coming out in the form of fountains. It is hence called "Panchadarla" and is becoming a favorite tourist spot.
A Siva temple is situated at this place ( in the form of Sri Uma Dharmalingeswara Swamy) and is worshipped by many Hindu devotees. My family and relatives performed "puja" to the SivaLinga with the chanting of mantras by the head-priest present over there. (the head-priest pronunciation was very good).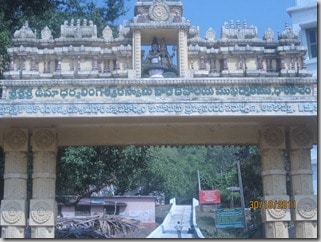 From there we left for Thanthadi beach.
We had to drive back from Dharapalem to reach our picnic spot. As we reached the spot by 11am, the place was quite peaceful and nobody to disturb. We dragged the lunch cans and luggage from the cars to a spot close to the beach. The wind was gusty and the view was scenic.
We ate the lunch brought from home which considered of both vegetarian and non-vegetarian. ( Though according to Hindu law, its forbidden to eat non-vegetarian in Karthika masam, some of couldn't resist the aroma of the dish prepared by one of our aunts).
In the afternoon, some adults and kids started playing Housie, while the rest of them enjoyed the coconut trees surrounding the spot. We also took various snapshots holding the coconuts which were low on the trees and easily reachable.
In the evening, we went to the sea and my nephews played with enthusiasm and ecstasy. After spending some time at the beach, we returned back to our native place Visakhapatnam, in the cars we came from.